Wall Murals
Mural of a Forest Covered in a Blanket of Snow Wall Mural

In stock
Ships in 1-2 Business Days
You may also like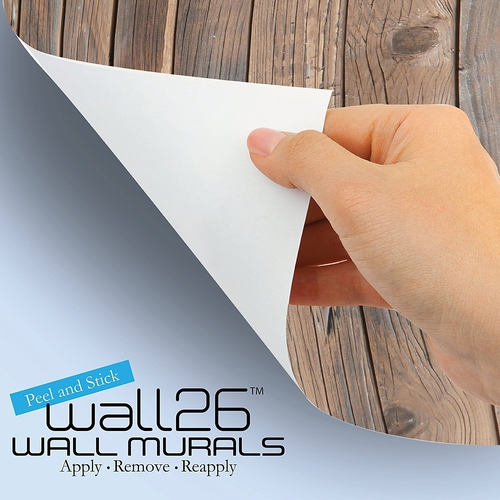 The wall mural is cut into 4 pieces for easy installation, each in 66"x24",total size is 66"x96" (Height x Width)
Very easy to apply, remove or reposition - Just PEEL & STICK!
Unique and one of a kind exclusive designs by Wall26®, for installation on flat dry surfaces indoor/outdoor walls doors and even windows
Won't leave a mark when repositioned like other cheap stickers on the market, no residue left behind
Product made in USA with fast shipping. 100% satisfaction guarantee.
Customer Reviews
Our Customers Say It Best
Was not happy with the first sheet. Top kept peeling down as I was installing panel.
It came damaged so I'm returning it but from what I could see of the image it's pretty grainy and definitely not clear. So even if it wasn't damaged I'd probably still be returning it
Looks great and lined up nice. Panels were 24 1/2 wide. Starting on left I took a level and drew a vertical line 24 3/4 from side wall. I lined top of first panel with ceiling and left side of panel with side wall. I made the vertical line 1/4 inch wider then panel so I could see it while making sure it was level. I used 4 pieces of blue painters tape to hold panel where I wanted it. 2 on each side 15 inches from top then 30 inches from top. I then folded back around 5 inches of backing paper at top and made a sharp crease. I then took a 7 inch wide knockdown knife (Its like a rubberized drywall knife) and starting in middle of panel at 15 inch painters tape firmly ran it up to ceiling then to sides. Removed painters tape (you can reuse same pieces) then worked my way down the middle stopping around every 12 inches then work the middle to the sides. Repeat till you get to bottom and trim bottom with exacto knife at base molding. Take your next panel put it up to the ceiling and line it up with first panel. Tape it up with your blue painters tape and repeat same as first panel. Hope this helps someone. I included pictures of tools I used.
I have bought three of these murals and love them. I have them in my CBD stores Organic Hemp Botanicals. Everyone loves them and many have bought them and put them in there house's.
This mural was beautiful and relatively easy to install (took me about 3 hours). It looked really nice and I was impressed. It lasted here in Texas about 8 months. Then, on a rainy weekend, it started to peel off the wall right above my 2-year-old daughter's bed overnight. I was terrified of what would've happened if it peeled all the way off and landed on top of her. Even if I wanted to put it back up (which at this point I didn't!), it ended up sticking to itself and becoming a huge balled mess of tacky paper. To add insult to injury, it tore some of the surface off the drywall and left the rest of it sticky and smelly. Very disappointed.
Both this mural, looks awsome on my wall. I bought 144 x 100 one, and it cover my wall pretty good. Love it.
Loved it!! Exact colors as shown in the picture.
Amazing product, easy to install and looks great! Side note it does have an odd odor to it, hopefully that will dissipate.
I am sure it was nice but it was sent to my 76 yr old mother on accident and Literally five seconds later they had already shipped it I was unable to change the shipping address and so it was $99 and I can't get it sent back now because she doesn't know how
Truly brings the outdoors inside. It really looks better than the picture. Everyone who comes into the room for the first time just gasps.
See all 77 customer reviews