wall26 Black and white Manhattan Skyline and Brooklyn Bridge - Canvas Art Home Decor - 16x24 inches
32. Manhattan Skyline

In stock
Ships in 1-2 Business Days
About this product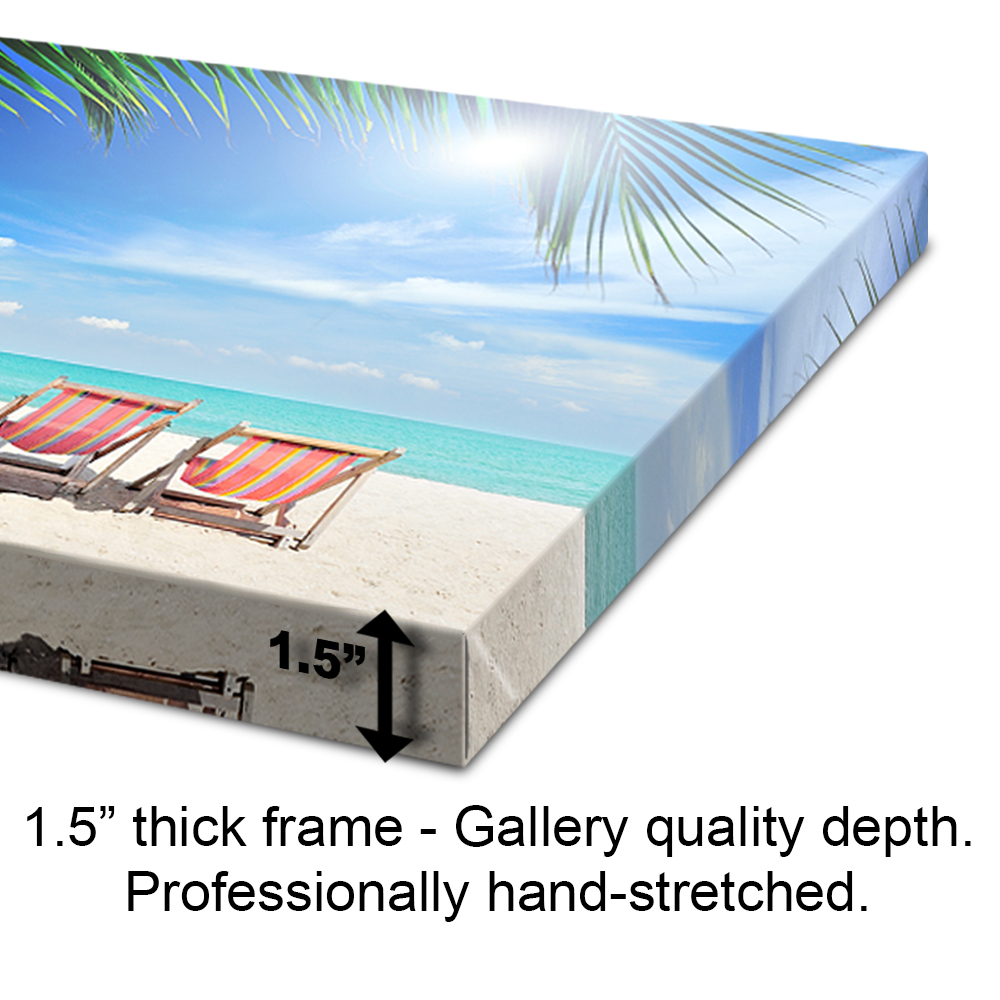 High quality printed canvas stretched and stapled to durable shrink resistant frames.
1.50" thick stretcher bars for gallery quality profile.
Canvases are printed and hand stretched in the USA by professionals.
Hanging accessory kit included.
All Wall26® Products are made in and shipped from the USA.Be aware of counterfeit sellers with inferior products. Our products will never ship from China or overseas.
Customer Reviews
Our Customers Say It Best
I absolutely love this canvas. The colors are vibrant and it is huge. It fits perfectly above my mantel. It's just beautiful.
Bought Waterfall flowers canvas painting. It looked nice on the computer but when I received it, it appears the green moss is photoshopped in which makes it look unrealistic. In addition, the picture itself was not as clear as I hoped maybe due to the amount of megapixels used to take the pic. All in all, a nice picture if you stand at least on the other side of the room to look at it.
Beautiful picture. So nice to wake up to.
Great, great, great. On my bedroom wall.
Love the contrast. Was hoping the Spire on top would be lit in the image. The upper left corner was pushed in, you can see this when standing ten feet away from it hanging on the wall
Bought this picture for my granddaughters room that I was redoing for her while she is away at college. This picture was the finishing touch to the room. It's perfect and I love it. She has still not seen her room but soon. I'm sure she will love it too. There have been many compliments from the rest of the family and friends. So glad I purchased this picture. Beautiful
Received the item broken on one edge
This is a great canvas! It's very well made and it came bubble wrapped to prevent any damage while shipping. There was a kit with some hanging accessories too, so you can hang it right away. The printing quality is amazing. Its wood bar is thick and strong and measures 1.5''. I am not an art specialist, but I really enjoy looking at this canvas print.
Trunks of Birch Trees in Black and White is ideal for your living room, bedroom or wherever it looks best in your home. This canvas is made in USA and measures 16" x 24". This is a pretty good size and it looks even better in person than in the pictures! I would highly recommend it, it will make a great gift!
I received this product for free in exchange for my honest review and they are 100% my own opinions. However your own opinion might vary. I try to do my reviews honest with the pros and cons I can see myself in a product, and with facts that a potential customer might find useful.
I have slowly been redecorating a guest room and I really this stretched canvas print of Autumn Park with Red Trees and Empty Benches on Road. It measures 16" x 24" and has really added the pop of color I was looking for. I like it and would purchase again. I received this product sample at a discount in exchange for my honest and unbiased review and I have rated and reviewed this product without bias, based solely on my personal experience with it.
See all 40 customer reviews