Wall Murals
Beautiful Dreamlike Forest in Autumn Time Wall Mural

In stock
Ships in 1-2 Business Days
You may also like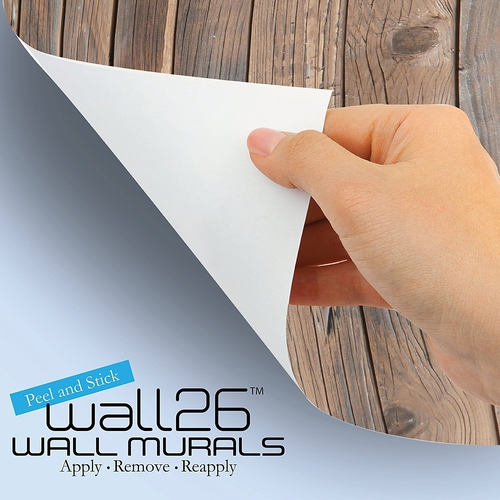 The wall mural is cut into 6 pieces for easy installation, each in 100"x24",total size is 100"x144" (Height x Width)
Very easy to apply, remove or reposition - Just PEEL & STICK!
Unique and one of a kind exclusive designs by Wall26®, for installation on flat dry surfaces indoor/outdoor walls doors and even windows
Won't leave a mark when repositioned like other cheap stickers on the market, no residue left behind
Customer Reviews
Our Customers Say It Best
Good quality. Delivered on time
Easy install. It took us about an our to put up the entire mural but once we got it up I fell in love with it. The smell may be a little overwhelming at first but it go away after a couple of weeks. I love it
The only reason I am giving this 2 stars is because the picture is decent. I was very disappointed on the quailty of this product. The panels didn't line up so in order to avoid a huge gap at the top I was only able to use 3 out if 6 panels. You also have to over lap the panels at least half and inch and in some places an inch. Use caution when putting up.
I love my wall art. The color is exactly what I wanted. It is not purple it is a mauve color. I put it up myself and it was easy. I do have a textured wall and it sticks fine. U just have to really go over it with a close fist to make sure it has good contact with every piece of the wall. Definitely dont be afraid to pull down at least 5 or 6 inches of the backing to start lining it up with the wall. Any less will give u problems and frustration. I look forward to buying other designs for the rest of my home. I had to cut 10" off to fit my wall and that was easy! It also wows my visitors!! Exactly as described!!!
Nice wall mural. The detail in the image was good and it had no problem sticking to the surface. Be aware that the backing paper tears rather easily which makes it tricky applying to corners or non-flat surfaces. No strong odors like other vinyl.
Blurry! Can't tell what it is, I know I'm going to be constantly asked what is that! Don't even want to waste my time trying to put it up now with the other comments! Disappointed!
Installing my poto mural was more challenging than I though. Definitely something you need 2 people for. The first roll was not installed straight and when I peeled the poster off to re-install it the wall paint came off with the poster I had to trash that roll. It got easier as I installed the rest of the rolls. Two things to know: 1) the rolls have a small overlap on the edges with each other which makes it easier to install (i didn't trim off the overlap and it is imperceptible. 2) The rolls don't match the image perfectly (I got the largest version of the image and it was slightly off) you can only tell when standing a few inches from it. Despite all that the mural looks incredible. I wish the vendor had some installation videos in YouTube.
It peels off by itself. it doesn't stick around. it stays barely 2 months. what a waste of $100 !!!
I love these wall coverings. Nothing like bringing the outdoors in. It totally transformed my bedroom. I found it quite easy to install but i do have prior experience hanging wall paper
The beautiful look on Amazon is what I wanted, but I received something totally different. The flowers are not vibrant, but a dull plum pink color on plastic like regular contact paper, which would have been tolerable if the color was lavender as pictured. Anyway, I thought it would like better once on the wall. It sticks to itself quite fast, so you have to be careful as you put it up. Once up, I was still disappointed.
Update: I was going to send this back, but after a few days it grew on me. I noticed that when the sun shines in the room, it appears purple, which is what I wanted. I will be keeping this mural.
See all 22 customer reviews