wall26 Removable Wall Sticker/Wall Mural - Santa Claus Carrying Gifts outside of Window on Christmas Eve - Creative Window View Home Decor/Wall Decor - 24"x32"
03. Santa Claus Coming on Christmas Eve

In stock
Ships in 1-2 Business Days
About this product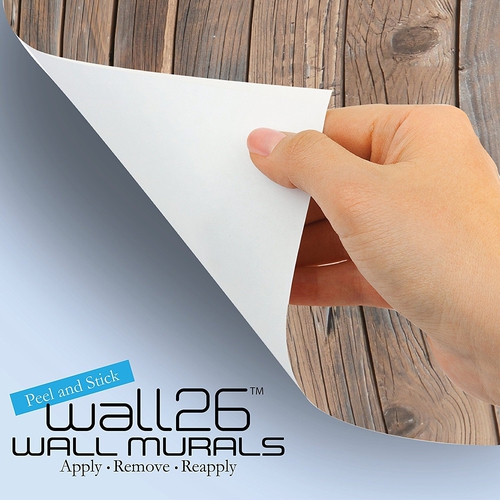 Unique and One of a kind Home Wall Sticker Design - by BestDealDepot
Very High Quality Vinyl - 7+ year exterior life!
Very easy to apply, remove or reposition - Just PEEL & STICK!
You can put it by yourself indoors or outdoors: walls, doors, widows or any flat and dry surface!
Won't leave a mark on your wall like other cheap sticker, no residue!
Product made in USA with fast shipping. 100% satisfaction guarantee.
Customer Reviews
Our Customers Say It Best
This is like a really cool giant bumper sticker. It sticks to the wall very easily, just be sure to get the air bubbles out. The colors are photo quality. The material is so strong I accidentally got a paper cut so be careful with that. I received this poster at a discounted price in exchange for my honest and unbiased opinion. It's great for a safari themed room.
We couldn't get the back part off to be able to stick it on the wall. Wound up tearing a small part of a corner. Went in the trash.
Picture was very nice and was easy to hang. But, the packaging was horrible. Came with creases that would not come out. Returned the product and will purchase one with better packaging!
I Love this sticker! It is a very heavy vinyl, you just peel the back off and stick it where you want it. My wall has a normal base paint on it and I had no problems at all just using a shower squeegee to take the bubbles out.
It is so realistic!
My 13 year old son wants one now!
I plan to go through their store and find more.
I received this wall sticker in exchange for my honest review and I am happy to recommend it to you!
Absolutely beautiful, exceeded expectations. The quality was great and price was amazing! Fast shipping as well. Highly recommend!!
I am very much excited to put it in our wall when I got this creative wall stickers. This is totally perfect for our wall near to our entrance door, wherein they will react while opening the door because this curious Giraffe sticking its head into an open window is really cute with a very nice background. What I love the most is this product is from a very high quality vinyl that will last for a lifetime. It is very thick, great resolution and the graphics is totally awesome.
Before I put this in our wall, I painted our wall first because I want it to be perfect and look nice. It should be place in a good spot with a very clean surface so that the adhesive back vinyl will definitely stick to the wall and last for a long time. When we're done, It's too pretty, look nice and when my nephews and my brother having dinner in our house they are totally amazed and want to have also on their wall. I'm super duper thankful for this product, they make my house gorgeous, as you can see in the images below, very gorgeous design with a very curious giraffe that looks a real one.
This decoration is totally easy to put it in a wall but needs two people to do it because it's a bit big almost the same size of our window 36" X 48" and this a perfect size for a wall decoration and its perfect size our wall near to entrance door. By the way, some of the reviews of this product I read some issues, wherein the adhesive back vinyl will not last long, as my advice just put a trim/frame in it for a better decoration and I guaranteed that will not peel off because we have a wall decoration before in our first house before and planning to put a trim next week. Thank you so much Wall26 for this awesome product. I am super duper blessed and happy to received this at no costs for testing and review. All opinions are 100% true.
Wall26® Creative Wall Sticker - A Curious Giraffe Sticking Its Head into an Open Window | Cute & Funny Wall Mural - 36"x48" review
Though because of the size this was no easy task to get up even with two people it was well worth it! Plan to be patient and know that the sticker is ultra forgiving if you need to take it off the wall and readjust it. The sheer size of it requires two people. I absolutely love this wall sticker and it does not fall off of the wall at all. It is stuck similar to how drawer liners stick. It is extremely fun and adds an air of delight and imagination to my nursery for now and years to come. I cannot recommend this product enough> You will love it! I have looked through the amazing designs available and am excited to see the realistic and colorful scenes offered. In terms of quality as you can see it is realistic even though it is somewhat fantastical having a giraffe looking in. Also, in terms of quality and adhesion, I do not think it could get better. This has my full happy recommendation.
**I do not base my reviews on the price of the listed item because that changes** I base my reviews on the quality of the item. If you have any questions for me feel free to ask and I would be glad to help if I can. I update my reviews over time if needed. I take my reviews seriously because I spend a lot of time and money on amazon. If you look into my reviews you will see updates in both directions positive and negative. This is my own writing and thoughts and I was **not** paid for my review. I read reviews from others when making online purchases and I think it is important to spend money wisely. "This product was provided at a discounted price in exchange for my honest review"
Wall26® Creative Wall Sticker - A Curious Giraffe Sticking Its Head into an Open Window | Cute & Funny Wall Mural - 36"x48" - This wall sticker is huge, it`s just as big as a normal big window is. The giraffe looking in is almost 3D, I can almost tickle him under his nose and I wouldn`t be surprised if he sneezed and shook himself. With a tiny bit of imagination I can hear the leaves moving in the wind and hear a cricket or two.
A very nice plus is that you can stick and remove and stick again how many times you wish. Apply, remove or reposition over and over. So it`s not like you stick it once and that`s it. Great too because this way you can get rid of the air bubbles under it and really stretch it and make it look good.
The quality is great. This is a thick sticker, not a flabby, cheap looking one. It looks great. In the video it`s still on the floor, but attaching it to the wall made a big difference. We had to remove a couple of pictures from the wall to give room for this. Friends coming to visit us all wow-ing and asking us where we got it. This is really something unique, an eye catcher that transform any room. I don`t know if we imagine or what it is, but it seems to make the room brighter too.
I received this at a discount so I could give it my genuine, unbiased review. The views and opinions in this review are solely mine and are in no way influenced by the price I paid for this product.
See all 23 customer reviews