wall26 Malcesine on Lake Garda by Gustav Klimt - Austrian Symbolist Painter - Canvas Art Home Decor - 24x24 inches
17. Malcesine on Lake Garda

In stock
Ships in 1-2 Business Days
About this product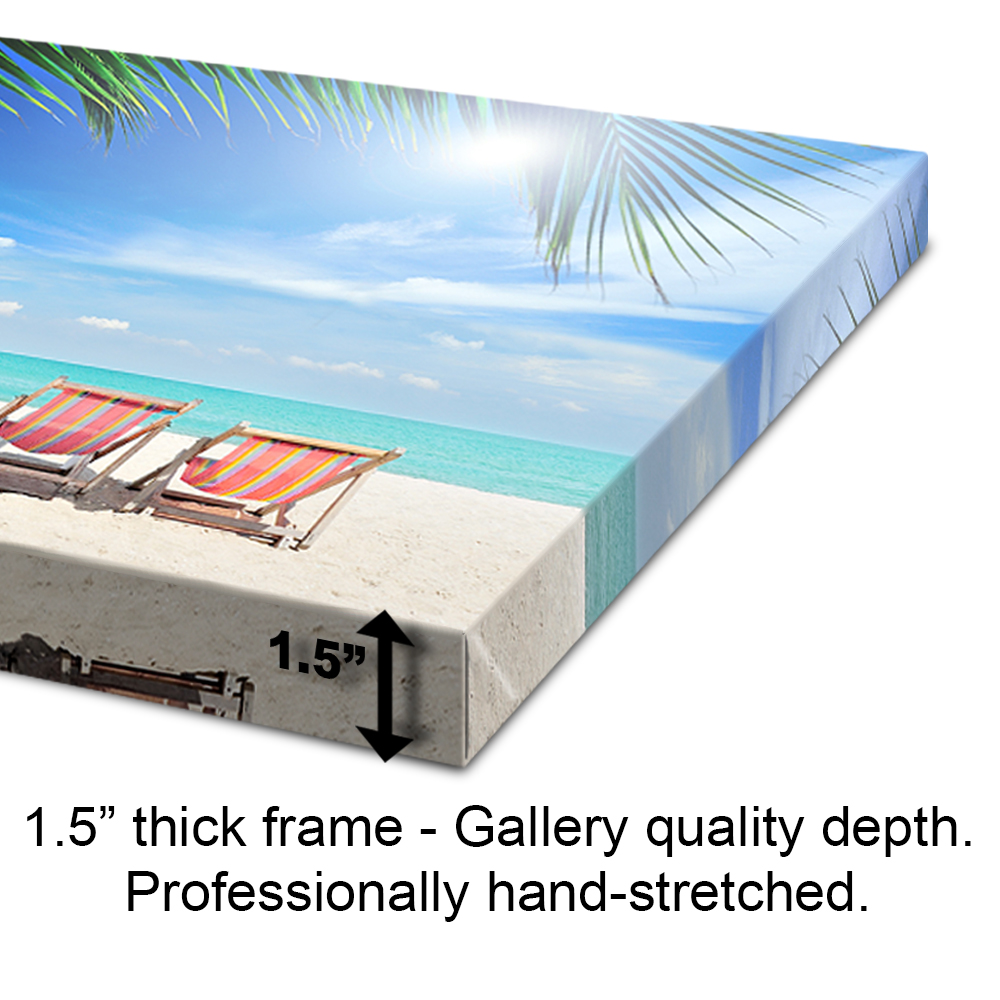 High quality printed canvas stretched and stapled to durable shrink resistant frames.
1.50" thick stretcher bars for gallery quality profile.
Canvases are printed and hand stretched in the USA by professionals.
Hanging accessory kit included.
All Wall26® Products are made in and shipped from the USA.Be aware of counterfeit sellers with inferior products. Our products will never ship from China or overseas.
We use high quality canvases which are designed specifically for canvas printing. Our canvas is a white semi-gloss artists canvas.We use latest HP Latex inks during printing process allowing our products to be fade resistant for up to 100 years.Canvas pictures are stretched on quality frame bars. All frames are of the highest quality.
Customer Reviews
Our Customers Say It Best
This item is horrible! Buyer beware it is not what is shown. The image is so blurry and pixilated! Very poor quality. They should not blow up an image of they can not keep the quality. I returned it as soon as I received it.
Ugh, is all I can say. I am so so so upset by this product. First off, let me say I did not receive a gift for mothers day because I was unable to find the "Perfect" gift. Finally, about a week after mother day, I was searching Gustav Klimt art work, and came across this picture and instantly fell in love. Everything about the stock photo made me fall in love. It was also a perfect fit for my long hallway, which is filled with art. I requested to receive this item for mother's day. The price was amazing and so was the size. I read some of the reviews, and since there is not a lot of pictures of the negative reviews, I thought some of the reviews were being overly critical and thought I'd give it a shot. It felt like forever receiving this item, even though it was Amazon Prime( ordered on a Friday). I ripped open the package and instantly felt my heart as well. While the picture looks decent from a far, it looks terrible up close. Since this will be in a hallway, the only way you are able to see the picture is up close. I have attached pictures to show how it looked far away , and close up. I will be returning this, as there is no way I will be hanging this monstrous "art work" in my home. This is a complete disaster, and the seller should be ashamed by letting this terrilble product leave the warehouse.
I have to say I must have been extremely lucky to receive a piece that is every bit as vibrant as is pictured for sale. Not one ounce of disappointment and I purchased when the price was quite low. Must just be a luck of the draw but one would think that poor quality prints would not make it out of the warehouse, but find themselves in the trash. Wall26 needs better quality control to be more consistent. That being said I LOVE my print.
too pixelated! takes away from the beauty of the painting
Very beautiful pic, it looks so great on my wall. The image is not super high quality, although considering the price it exceeds expectations
The print was so fuzzy and unattractive, that I would have to hang it somewhere in my home where one would only be able to enjoy it from afar. I'm very disappointed and I should've have taken the other poor reviews seriously. I'll be happy to get my money back, because this just looks awful.
Framed well, decent quality for a print
Worst quality I've ever seen. Ever.
From far away it looks fine... Unfortunately, up close the quality of the picture is pretty dang awful. I tried to show it in a picture but honestly even that does it too much justice. My boyfriend couldn't believe how it looked either, his first words being, "Wow, that quality is REALLY bad," when seeing it. I'm still going to keep it because I don't want to go through the hassle of returning, I just wish it wasn't such a blurry mess and that it didn't come dented.
See all 28 customer reviews