Wall26 - Large Wall Mural - Beautiful Scenery of Colorful Kayak /Boats on Tropical Beach | Self-adhesive Vinyl Wallpaper / Removable Modern Decorating Wall Art - 66"x96"
Kayak /Boats

In stock
Ships in 1-2 Business Days
About this product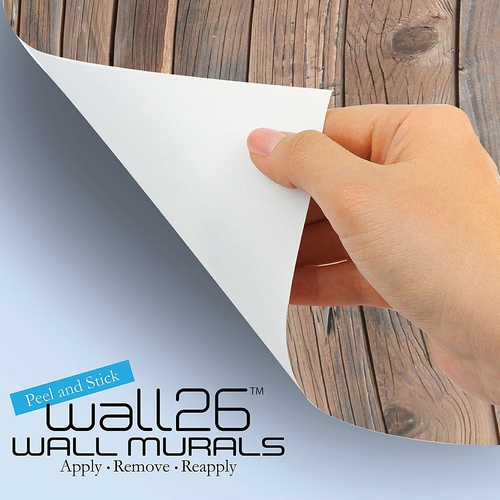 Unique and One of a kind Home Wall Sticker Design - by BestDealDepot
Very High Quality Vinyl - 7+ year exterior life!
Very easy to apply, remove or reposition - Just PEEL & STICK!
You can put it by yourself indoors or outdoors: walls, doors, widows or any flat and dry surface!
Won't leave a mark on your wall like other cheap sticker, no residue!
Product made in USA with fast shipping. 100% satisfaction guarantee.
Customer Reviews
Our Customers Say It Best
nice colors. Good printing. Would be better, if they warn you in the instructions that you should not put it on place side to side. And when you match the drawing, snapping is very visible on the wall. I think will be best for very smooth walls, mine have some texture, so from time to time i have to make sure wallpaper sticks to the wall
Picture quality is amazing! Shipping was more than lacking as it was merely rolled up and thrown in a box. Came with zero instructions so putting on was a charm. Do not put on flat paint it can not be removed. Which would've been nice to know!
I really like how this turned out! It was a bit difficult ensuring the pattern was level along the wall so a laser level would have been great. We just eyeballed it by lining up the thick line at the bottom of the first "board" from the ceiling and just made sure it was straight across the wall , then smoothed it on the wall up to the ceiling and down to the floor. The mural sticks well but can lose some of the adhering qualities with too much repositioning. The mural pieces are even numbered for a perfect flow to the pattern.
Thought I was ordering more of a wallpaper, but it turned out to be vinyl sheets. Works beautifully. I covered an island in the kitchen and it looks really nice.
So very easy to hang, looks beautiful. Can be cut into strips for creativity. Would buy again and again. 1 order fit my huge stage exactly how I wanted it to.
Simply wonderful!! Used in two different projects and loved the results!!
Exactly what I wanted for my rustic nursery!! It looks just like the picture and for $100 it covered my whole wall!
Installed on an accent wall in about an hours time. So easy to line up design. Still can't believe it's peel and stick. Even my skeptical husband now loves it!!
Absolutely beautiful!!!! Easy to apply and it looks great! I had no problems put it up by myself but I can see whers a second pair of hands may be helpful. It just takes a little patience to get everything lined up but if you follow the suggestions of other reviewers you should have any problems. I would like to suggest including some directions in the packaging because there aren't any and it may be helpful. I also recommend using a razor blade or exacto knife to trim around outlets or lightswitches. I can see the seams but that's just because I know where to look for them. All in all I would recommend this item and I would absolutely purchase it over again!
See all 19 customer reviews