wall26 Self-adhesive Wallpaper Large Wall Mural Series (66"x96", Artwork - 29)
Artwork - 29

In stock
Ships in 1-2 Business Days
About this product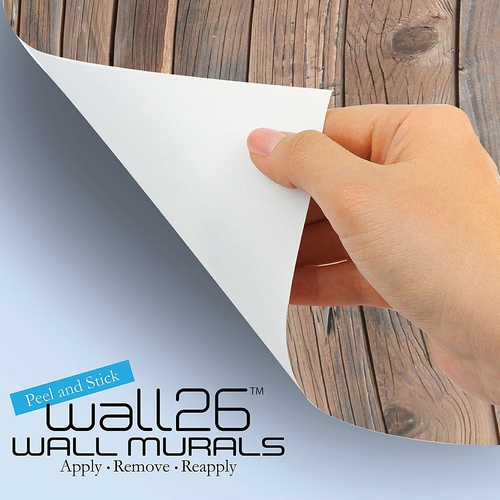 Unique and One of a kind Home Wall Sticker Design - by BestDealDepot
Very High Quality Vinyl - 7+ year exterior life!
Very easy to apply, remove or reposition - Just PEEL & STICK!
You can put it by yourself indoors or outdoors: walls, doors, widows or any flat and dry surface!
Won't leave a mark on your wall like other cheap sticker, no residue!
Brooklyn bridge and Manhattan at dusk, New York City
Customer Reviews
Our Customers Say It Best
Easy to put up and look wonderful.
Love it---finally got in on the wall yesterday!
loved it. perfect for my 11 years old daughter! next to pink bed and assessors its a must have !
This mural is beautiful in our basement and colors are exactly as shown! For the price and size of this piece of art, I am very pleased. The only reason I did not give it 5 stars is that there were a few large bubbles in the vinyl that seem to be a defect (?) in the material. I chose to place clock over that area and it happens to look like a moon in the night sky, so it worked out okay.
Yes, this is a review for an actual bona fide customer. I bought the "Tree Trunks in a green forest" decal for our kids room, at full room size -- 8'4" high by 12 ft wide (most of the review on this page seem to be for some small vase murals).
The pros:
* The price - at $99.99, this was far cheaper than any other similarly sized self-adhesive wall mural
* The vinyl material is thick and tough. It's not going to rip while you're trying to apply it
* The package was well organized, with instructions and numbered panels, so that there was no confusion about what order to apply the panels
* Application was quite easy. I did it by myself, and it took about 2 hours, and I ended up with almost no bubbles
The cons:
* Image quality is not great. I couldn't guess how many megapixels the source image had, but there aren't enough. If you get close to the wall, you can see actual square pixels in the photo, and the overall effect is quite blurry if you're closer than 3 feet away. I've attached a close-up picture to better illustrate the image quality (from 3 ft away, and from 1 ft away)
* You *must* get placement right the first time. Contrary to what it says, this mural is not "removable". I had one of the panels and the wrong angle, and when i tried to peel it off to reposition, it took all the paint off the wall with it. The smaller sizes may be repositionable, but with the 24" wide panels, there's simply too much adhesive involved, and it takes the wall paint with it no matter how slowly and carefully you try to peel it off.
* It makes the room darker. This one's on me, but I didn't realize that covering a white wall with a dark forest mural was going to make the whole room feel a bit darker. Just something to keep in mind if you're considering this.
Overall, good for the price, much easier than dealing with wallpaper paste, and it looks fairly good as long as you're not standing too close.
this product its reallt good and it is the best seen i saw and i love it