wall26 Beautiful Scenery/Landscape Venice,Italy View from inside a Window Removable Wall Sticker/Wall Mural - 24"x32"
Venice

In stock
Ships in 1-2 Business Days
About this product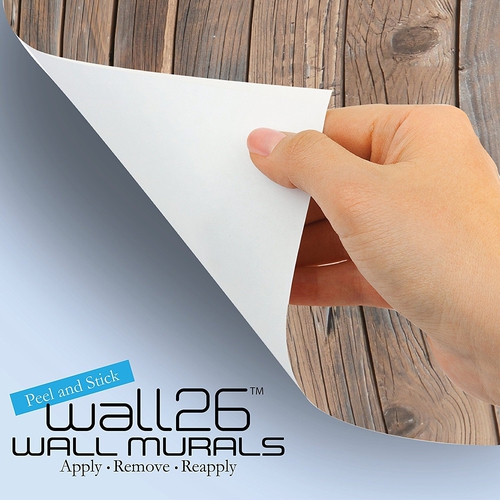 Unique and One of a kind Home Wall Sticker Design - by BestDealDepot
Very High Quality Vinyl - 7+ year exterior life!
Very easy to apply, remove or reposition - Just PEEL & STICK!
You can put it by yourself indoors or outdoors: walls, doors, widows or any flat and dry surface!
Won't leave a mark on your wall like other cheap sticker, no residue!
Large murals are printed in multiple panels and might require two people to install.
Great for any smooth wall surface, doors, renters, dorms, bedrooms, offices, refrigerators, kids play areas, reception areas, waiting rooms, halls.
Not recommended for high moisture areas, above or near fireplaces and cribs.
 
Forgiving adhesive vinyl material
Matte finish
Removable & reusable
No paste, no tools, no residue
Applicable on flat dry surfaces, even glass
Depending on the size of your surface it may be helpful to have someone to help you with installation
Be sure to start with a smooth, clean surface (preferably non-glossy wall paint).
Remove hooks, light fixtures, and wall plates; fill cracks and holes with spackling compound and sand until smooth.
Do not pre-trim your mural.
Make sure you approve your mural layout before trimming any excess material.
Multi-panel murals have an overlap along the seams. This is not a printing error.
If your mural sticks to itself, slowly peel the two sides apart by dipping your fingers in some rubbing alcohol, then working them between the areas stuck. Gently pull apart.
The same mural can be safely applied and removed many times without losing adhesion.
To remove your mural from the surface, slowly and gently peel from the top on a 120 degree angle.
Tape measure and straight edge
Sharp knife or boxcutter
Smoothing tool or towel
Blowdryer
Product made in USA with fast shipping. 100% satisfaction guarantee.
Customer Reviews
Our Customers Say It Best
Sure does help a blank wall in the basement!
this looks beautiful on my wall
The print was not aligned....as if the printer was off on the vinyl...the bottom frame wasn't straight it went up and down in the center...plus the window looks a bit too fake for me...but the picture and color are reproduced very nicely. I did not keep, due to defect
Great scene. Applies easily and removed the same. Looks wonderful with the light behind it. I'll try to find a larger version to cover my sliding glass doors. The "sticker" is made of heavier material making it easy to move. Beautiful.
Why would you not one somewhere in your home, like your bathroom? Looks just like the picture.
Stunning with strong adhesive for wallpapered office!
My classroom doesn't have windows and is pretty small so I wanted to put these up to liven the place up. They actually look more realistic than I expected. They are tedious to put up (if you want to get the air bubbles out) and I really don't know how well they'll hold up if I want to move them. When applying one, it easily stretched when I was pulling it up to get an air bubble out. This stretching cause it to not lay flat without creases. Luckily it was at the very end so the rest looks fantastic.
Easy to install and looks great.
This might be the best 30 bucks I've ever spent. Looks great on my wall in my office, was super easy to put up, and my coworkers all come to visit the giraffe when they need a giggle.
The price comparatively for other products of the same size is surprisingly low, and the quality is beyond what I expected. My goal was to brighten up a classroom with no windows, and I thought this background looked the most realistic for our area. It came rolled and undamaged. I mounted it on cardboard rather than trying to stick it directly to the wall, and placed a real window treatment around it. I'd love to make sort of lighting for it so it glows more like a real window, but I'll have to save that project for another day.
See all 49 customer reviews